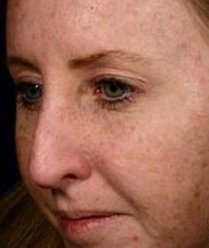 Given the wide range of melasma treatment options that work today, dark skin discoloration can be effectively and inexpensively corrected. Melasma occurs mostly in women who are expectant, and those who are consuming oral, patch or hormonal contraceptives.
It is also common in men and women who are of native American origin (mostly found on the forearms) and in Russian, Jewish and German men and women (found on their faces).
Although there is no magical fix for treatment of melasma, there are quite a number of products and treatments that can improve the condition. This article will explain the causes and choice for treatment for this disease.
Who Can Get Melasma?
Genetics plays a big role when it comes to being affected by this disease. Those who have a family history of melasma also have a high possibility of being afflicted by it. If you dwell in places where you are subjected to a lot of sunlight, then you also are at risk of being affected by this disease.
It also afflicts those with a thyroid problem. In rare occasions, it occurs as an allergic reaction to medications and cosmetics.
There is no exact cause of melasma although it is believed that it is caused by a combination of both external and internal hormonal changes, and exposure to excess sunlight. Excess exposure to the sun contributes to the creation of a lot of melanin which in turn contributes to and exacerbates it.
The skin cell that produces pigment is stimulated by progesterone and estrogen, which later becomes predominant in those who are at risk of acquiring this skin discoloration disease.
An increase in hormone levels is another cause, commonly found in expectant women, those taking contraceptives and a person who is stressed. Stress is known to elevate the levels of estrogen. Intake of soy can also increase the levels of estrogen though this is debatable.
Modern Skin Discoloration Treatment Options
There are a number of challenges to successfully administering a treatment for melasma. Women can experience fluctuating hormonal changes. Typically, hormones go back to normal levels after delivery and thus the skin returns to normal. However, in some situations it does not. In these cases, topical agents can be used in the restoration and balance of color.
Topical agents include lightening melasma treatment creams for the skin. Melasma therapy options include dermal abrasion using microdermabrasion or even chemical peels used on the face.
Increasingly, laser treatment is used as a cure for this disease, although it can be quite expensive not to mention a painful process. When considering melasma laser treatment, it is important to ensure the technology treats your skin type – light or dark. No matter which treatment of melasma one opts for, it is very important to remember not to subject your skin to excess sunlight.
Expectant women should avoid undergoing any treatment until they have delivered or if you do not want to wait, then consult your doctor to explore the best melasma natural treatment option for you.
Of all the skin discoloration treatment, the best one is always avoiding the sunlight. If you have to go basking in the summer sun, make sure that you have coated your face with sun screen.
Should melasma disease set in, you can use cosmetics to cover it up the discoloration until you find the best melasma treatment for you.